Staying at their desks for hours at a time, these Singaporean Twitch streamers share their profound love for gaming with the world.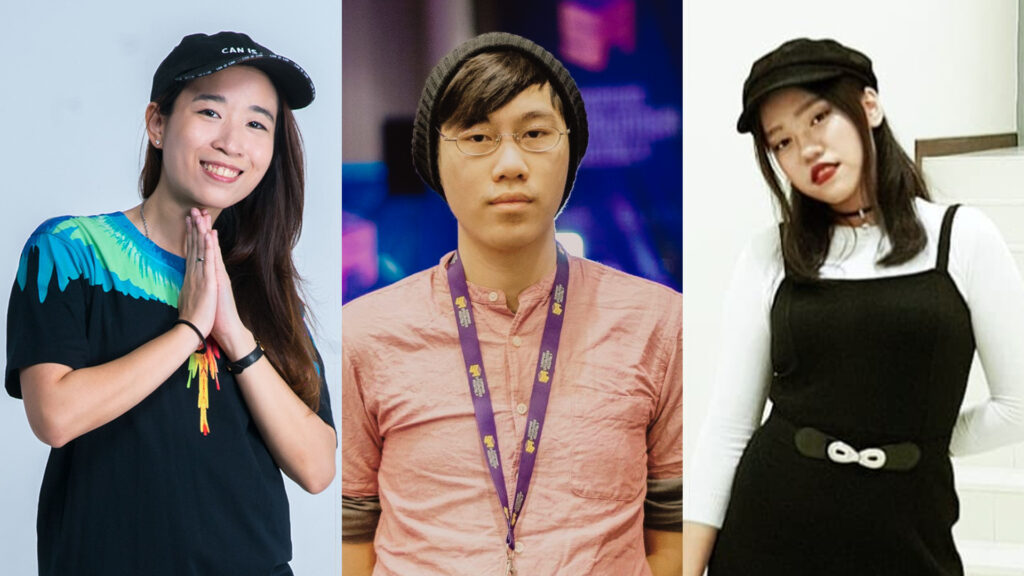 For the uninitiated, Twitch is a smorgasbord of entertainment, where viewers can choose between tuning in to musicians jamming live, feasting their eyes at internet personalities as they indulge in a casual Mukbang stream, and even watching gamer livestream video games. Every day, the streaming giant sees up to 30 million visitors tuning in.
Unlike the run-of-the-mill livestreaming apps, viewers may interact with their favourite streamers on Twitch. Recognised Twitch streamers, otherwise known as 'Affiliates' or 'Partners', may choose to monetise these interactions; ardent fans may, in fact, pay for other interactions, whether it's a new category of Twitch-specific emoticons or to receive a shout-out.
Here, we profiled three Singaporean Twitch streamers who shared with us their streaming journey on sunny Singapore.
Seasoned Variety Twitch Streamer, Melissa Er
A familiar name in the Singaporean Twitch community and gaming scene, 33-year-old Melissa "Melvallous" Er's foray into streaming video games on the Amazon-owned streaming platform in 2017 was spurred by a desire to share her passion for video gaming with the world.
"Since I was already playing games, why not put out content for others to enjoy?" she confesses.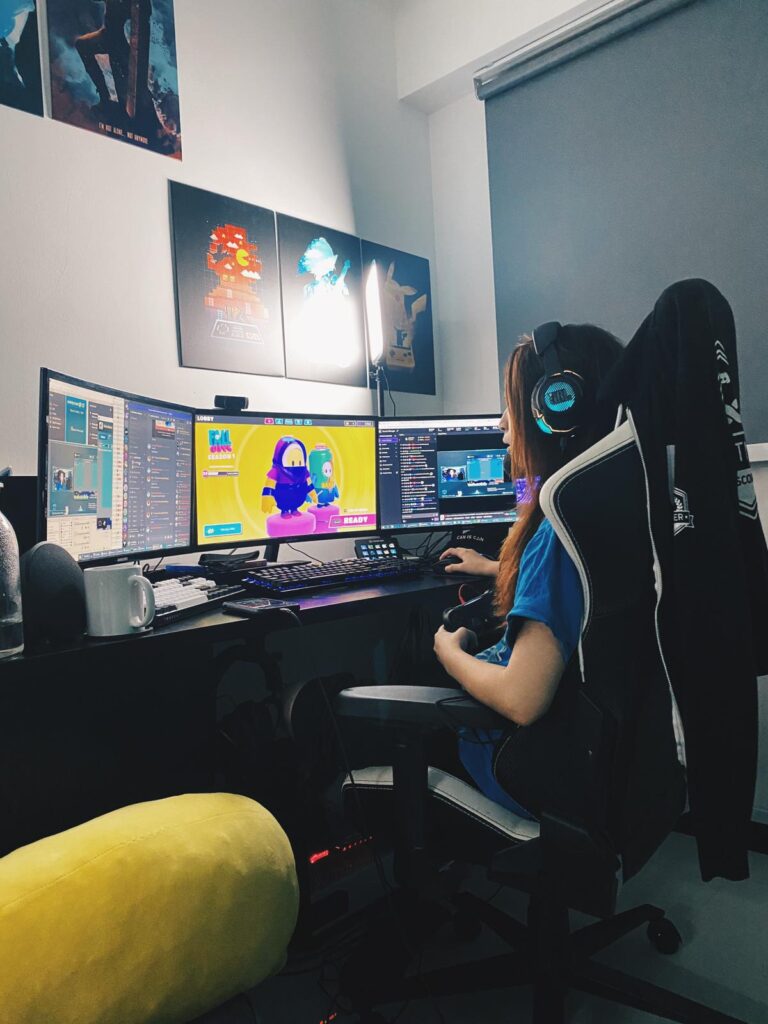 A freelance web designer or digital marketer by day, a variety Twitch streamer by night, the content creator is known to curate a variety of content for her channel every week. Besides streaming video games, Melissa also sings, DJs, and hosts casual podcasts with her husband and fellow Twitch streamer "DriftshadowSG" for her followers.
On average, Melissa streams between three and four hours per evening, with 30 to hundreds of viewers tuning in to her streams. The games she plays and livestreams run the gamut from Genshin Impact, Naraka: Bladepoint, F1 2021, World of Warcraft, Diablo, PUBG and more. To date, the content creator prides herself in having streamed more than 140 titles on Twitch and amassing over 6,600 (and counting) followers.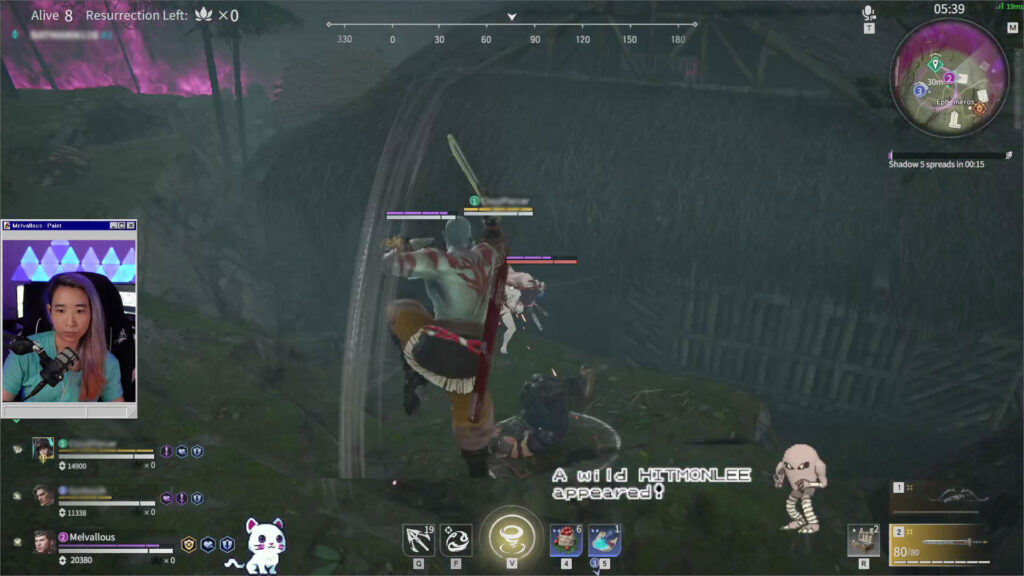 As with most content creators, Melissa sometimes faces the perennial problem of scouring for content that best resonates with her followers. "I sometimes feel overwhelmed with the planning," Melissa says. To cope, the streamer would go on a short hiatus to better balance her commitments and organise her workflow.
If there is anything she has learned from her years of streaming, it is how her followers are like her family and deserve only the best. "I'd rather take time off to work on these ideas so that I can deliver my best in the weeks to come," she says. Along this vein, the content she streams, whether it is of a video game or a podcast, serves not only as a form of entertainment on Twitch but also as a means to bolster her community.
And yet, streaming can be a lonely pursuit. After all, the streamer, especially for newbies, is left in her own space with nothing but the followers, who may or may not engage back. "If not for the community and friends I make along the way, (streaming) may have been very lifeless," Melissa says.
Video Game Speed-runner, Justin Ho
Singaporean video game speed-runner Justin "Juh0rse" Ho has been a content creator for a long time. "I started uploading content for fun nine years ago on YouTube," he says, showing me a link to his YouTube page. Back then, he would regularly upload random snippets of his gameplays, mainly from the horror genre, but found that creating content consistently on YouTube was beginning to take a toll on him even though he was not in it for the follows and shares. He admits, "I got bored of playing mainstream games."
That was when he decided to pivot from being a content creator to a livestreamer, and from playing mainstream games (the likes of Counter-Strike) to becoming a video game speedrunner. An interesting trend with a small following on the sunny island, a video game speedrun challenges the gamer to rush through and complete a game in the shortest time possible. "It's like a 100 meters dash," Justin says.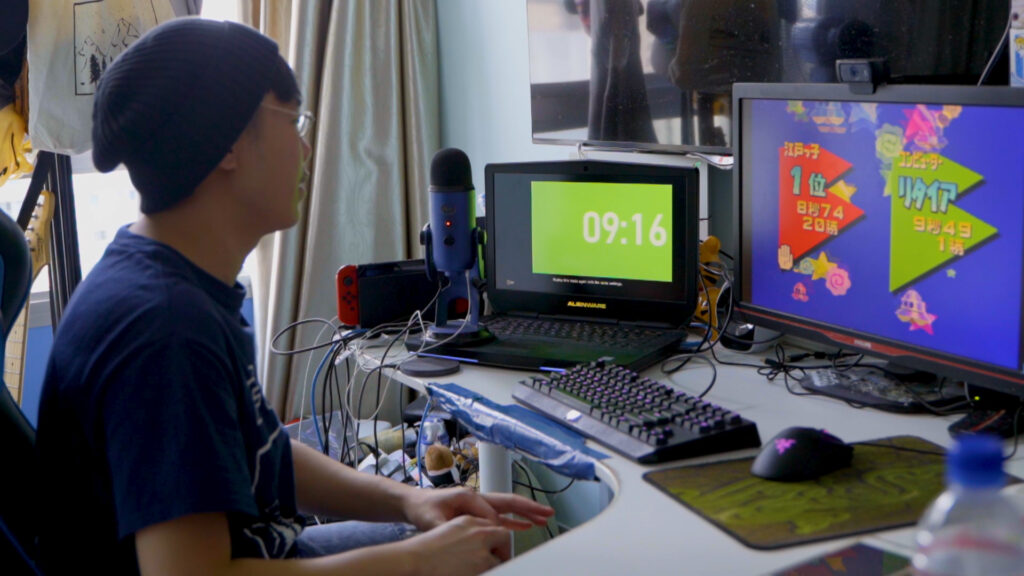 According to Justin, speedrunning can be a charitable activity of sorts. He, along with other speedrunners, would frequently participate in speedrunning marathons to raise money for charity. Recognising a specific charity or cause, the team of speedrunners, who hail from different pockets of the world, would take turns to clear a game segment.
The money raised through the stream would then be directed to the relevant beneficiaries. To date, the bi-annual event Games Done Quick has teamed up with several notable charities, such as Doctors Without Borders, and raised over USD 34 million since its inception 11 years ago.
On average, Justin sees 30-something viewers whenever he streams. On-screen, he speaks liberally with an accent, pokes fun at the random happenings in the game and in life, and sometimes makes profane jokes. Off-screen, he seems calm, composed and even timid.
"Growing up with anxiety and depression, it's been difficult trying to talk to people. I get emotional and breakdown easily," Justin recalls. Being a child of divorce, he turned to playing games for solace when he was younger. For him, streaming the video games he play or speedrun on Twitch was (and still is) a coping mechanism that bolsters his confidence and expands his network.
"Talking to a screen and having people coming in to talk to you is a comforting feeling," he adds.
The 22-year-old, who has participated in 40 separate speedruns this year, does not care if he only takes home only a few hundred dollars a month from his streaming. Instead, he is contented to be in his own space, with his community — some of whom he had met while on an overseas trip to attend a speedrun marathon event— who has become his anchor in life.
Budding Video Game Streamer, Alicia Quek
Elsewhere, 22-year-old Alicia Quek is sitting in her bedroom in a four-room flat in northern Singapore, her eyes fixated on the screen as she attempts to kill a trio of shooters. "Two down. Last one's armour broke," she commented as her character grapples towards a wall with a hook while her two teammates marched forward behind her to confirm the kill. It was a grisly end for the opponents as Alicia's team emerged victorious in the first-person shooter battle royale Apex Legend.
"Good game," she says, heaving a sigh of relief as she proceeds to answer questions from her thirty-odd Twitch viewers.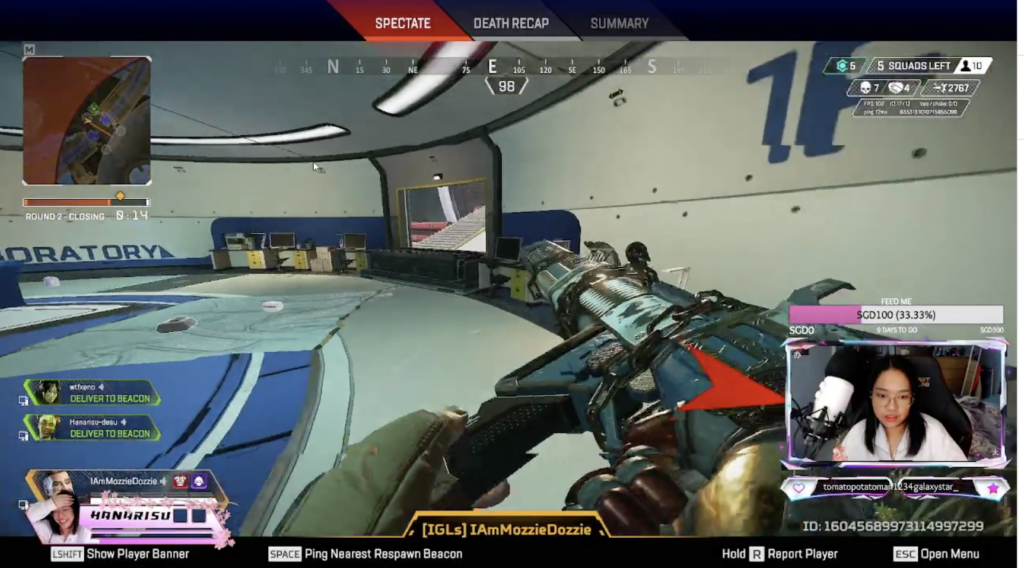 Alicia, now a full-time Twitch streamer who goes by the moniker 'Hanarisu', streams six days a week for at least six to eight hours per stream. For her, becoming a streamer full time in 2020 was both a pragmatic and experimental decision. "I wanted to try things out for a year. I told myself that if I managed to progress and be able to earn a little for the family, I would continue doing so," she says.
On-screen, Alicia, who is a Singaporean, communicates succinctly with her teammates, ushering out directions and seemingly strategic commands to better coordinate themselves in the crossfire. But Alicia is not a professional esports player. She does not pretend to be an esports player nor try to be one. Like many casual players, she sometimes makes wrong turns that ultimately caused her and her team's demise which she brushes off nonchalantly. This, along with her casual banter about life, may well be what garnered her a following.
"I wouldn't have gotten this far without the support of my family, friends and followers," Alicia, who now has more than 5,000 Twitch followers, adds. "I always treat people the way I want to be treated and I guess maybe that helps?"
Streaming Video Games, A Prospective Trade?
What Alicia, Justin and Melissa are doing is telling of the growing streaming community in Singapore; all you need is a passionate audience, a likeable personality, and decent streaming set up to kickstart a potential career. Being a successful streamer, however, requires hard work.
Melissa, Justin and Alicia are no strangers to getting sponsorships. Alicia's first partnership was with the now-defunct lan gaming shop Bountie Arena who sponsored her an extensive gaming setup, comprising a personal computer (PC), a capture card, an extra monitor, for her perusal. "When I got the sponsorship, I felt like I was on the right track. It felt good," she says, smiling sheepishly. Most recently, she became an ambassador for Singapore-based custom gaming PC-building company Artesian Builds.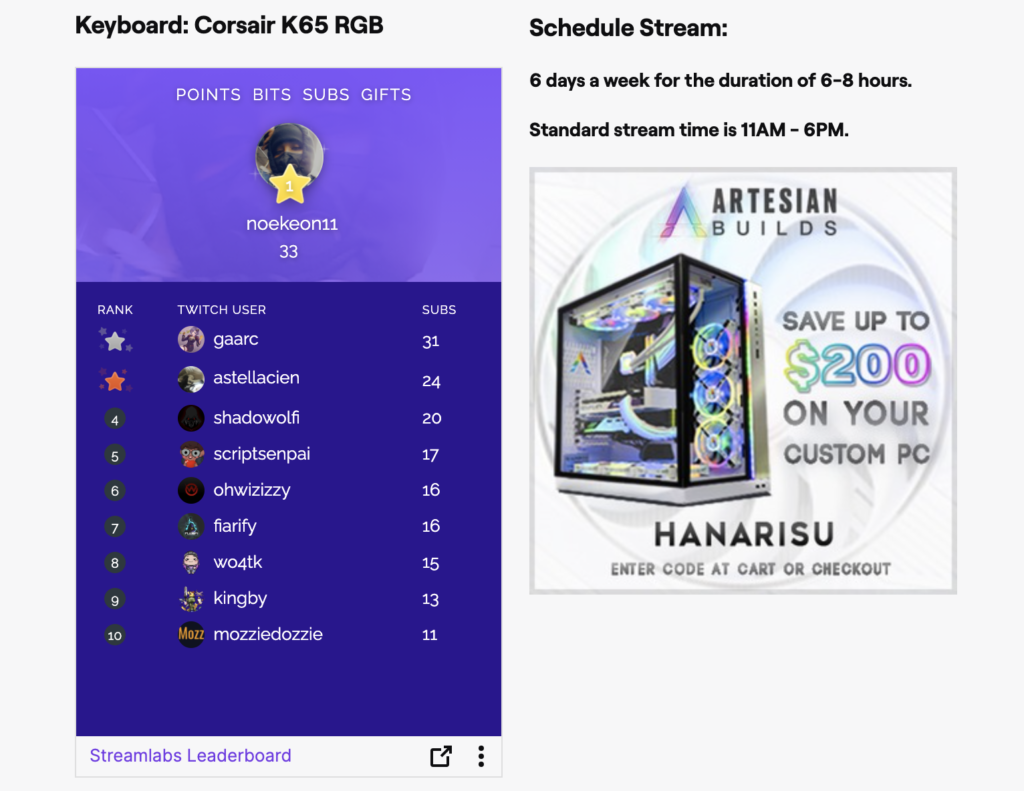 "I am still not earning much. It's below $1,000, but it is enough for me to pay my bills and feed myself monthly," Alicia confesses. Unperturbed, Alicia, who is just a Twitch affiliate, laughs, "I know it's enough because I can treat myself to good food once or twice a month, get my skincare essentials and my hair done."
Unlike Alicia, Melissa, the more senior of the two, has clinched more sponsorships and ambassadorships under her belt. She also takes home a higher passive income from streaming her games. She reveals, "I take home a four-digit income." But like Alicia, the amount she takes home varies depends on the circumstance. On a good month, Melissa reveals, she can earn up to $6,000. "I am married and living with my husband. We have bills to pay," the part-time variety Twitch streamer laughs. "So yeah, every bit counts."
For the trio, while consistency and content are keys to building their communities, knowing how to navigate the harsh criticisms and snarky comments from naysayers and trollers is equally important too. Alicia has had snide remarks targeted at her for being a "boosted player" on Apex Legends. "Being a female streamer is also a double-edged sword," Alicia says. "Sure, I get more viewers, but sometimes I face sexual harassment too."
Melissa adds, "There will always be people who do not resonate with your brand and content." In this regard, aspiring streamers ought to recognise that these hateful comments are commonplace occurrences and learn to brush them aside or create rules to stem trollers or haters out of the community.
Not so long ago, parents have frowned upon the idea of having their children become video gamers or esports athletes. But with knowledge and evidence to prove that video gamers can make a living on their own, society at large has become even more accepting of video gaming. As the world of esports expands, it has become common knowledge that gamers and esports teams do rake in profits. And today, anyone can be a Twitch streamer.
On what he envisions the local gaming scene to be in the future, Justin remains realistic. "The gaming community is growing. If a career in e-sports fails, you don't just go into a big hole. You fail, you come back up, you try again – just like the circle of life."
Update as of 9 October 2021:
Our Grandfather Story understands that on 6 October 2021 an anonymous hacker had leaked a document comprising sensitive information on online forum 4chan. The 125GB torrent file contains sources codes and user payouts. According to Mustsharenews, Nine of Singapore's most prominent Twitch streamers made it to the list.