An unusual studio in Pearl's Hill Terrace takes visitors into the weird and wonderful world of taxidermy.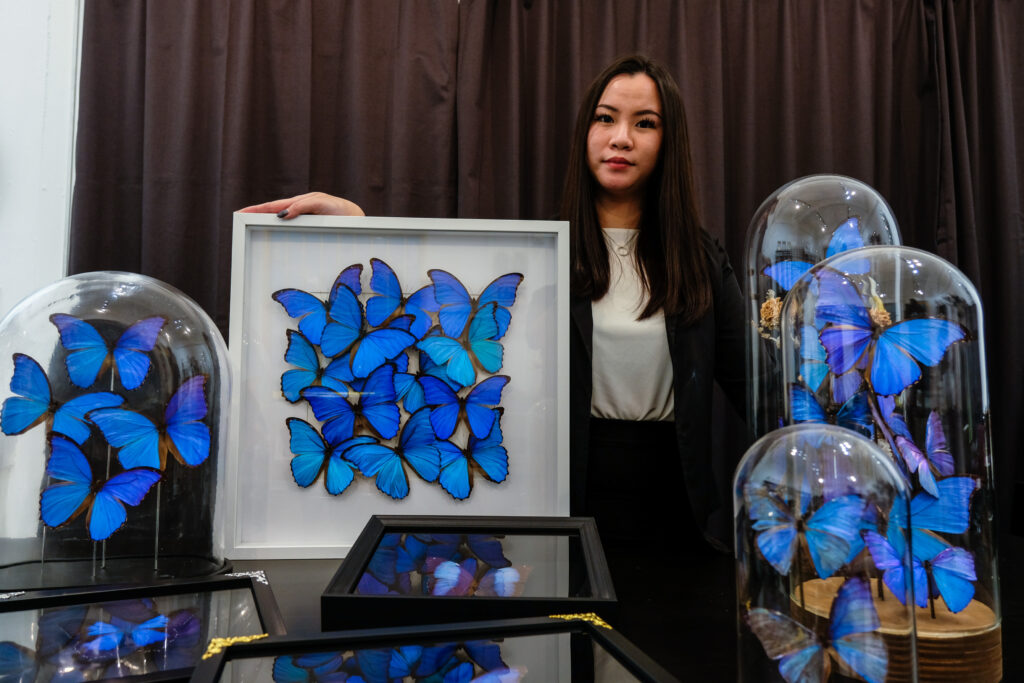 On the first floor of Pearl's Hill Terrace in Chinatown, a skeleton dressed in a blue lab coat sits at a table waiting. It's the first sign that something is out of the ordinary. Then the door swings open and one is transported into a different world. Here, a treasure trove of oddities and curiosities await.
Iridescent midnight-blue butterflies and ornate jewelled beetles encased in glass boxes line the walls, while fragments of kaleidoscopic butterfly wings are displayed in vials. Deer and goat skulls sit side by side with stuffed rabbits and chicks in startling life-likeness, alongside tiny bats stuffed in glass jars and the skeleton of a snake gracefully adorned with rose petals.

Welcome to Black Crow Taxidermy & Art, a space like no other. It's here that I meet Vivian Tham, the bubbly and energetic founder behind the taxidermy studio.

Being surrounded by death doesn't irk the 28-year-old the least. She takes pride in combining her scientific knowledge and artistic talents to give dead creatures a new lease of life. In fact, she's making taxidermy – the method of preserving carcasses for the future – a novel educational pursuit for the younger generation. Since the studio opened in September 2021, the response has been surprising, said Vivian. Because it's still such a niche field in Singapore, the shop has attracted a never-ending stream of curious visitors, media requests for interviews, and even her neighbours love to pop by to say hello and have a peek at what she's up to.

Early Beginnings
Incidentally, taxidermy first began as a hobby. When Vivian discovered a dead moth in her house, she was compelled to find a way to keep it because of the beautiful patterns and intricate designs and details. Having a degree in Zoology and Masters in Science (Pathology) came in handy in helping her preserve these creatures.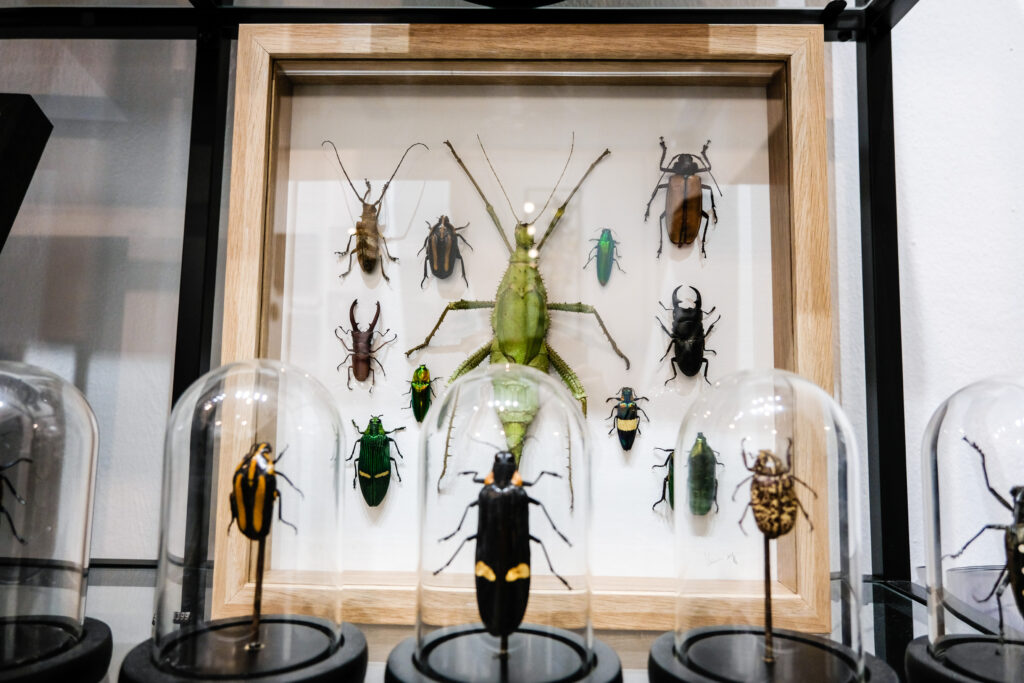 Back in 2020, Vivian was selling her wildlife sketches on Carousell but there was little traction. It was only when she started listing her taxidermy creations that it went "crazy on social media". Eventually she decided to quit her day job at a private laboratory and run Black Crow Taxidermy & Art full-time.

She and her partner Jivan (who helps with media relations and business operations) were scouting for spaces when they stumbled upon Pearl's Hill Terrace, a hidden art enclave in Chinatown. They fell in love with the creative atmosphere, its eclectic mix of tenants, its central location and proximity to good and affordable food.

Incidentally, several of their clients have also become their neighbours and collaborators as well, such as a florist who supplies uncut flowers to them, a music studio and a crystal shop which moved in shortly after.
"Being housed in this heritage building, it all adds up to the up and coming vibe for local artists, musicians, tattoo artists, pottery studios and so on. It's amazing for us to be able to fuse art and science together and to participate in this exchange of ideas," says Vivian, squealing a little as she spots a visitor taking a Chihuahua on a stroll outside the store.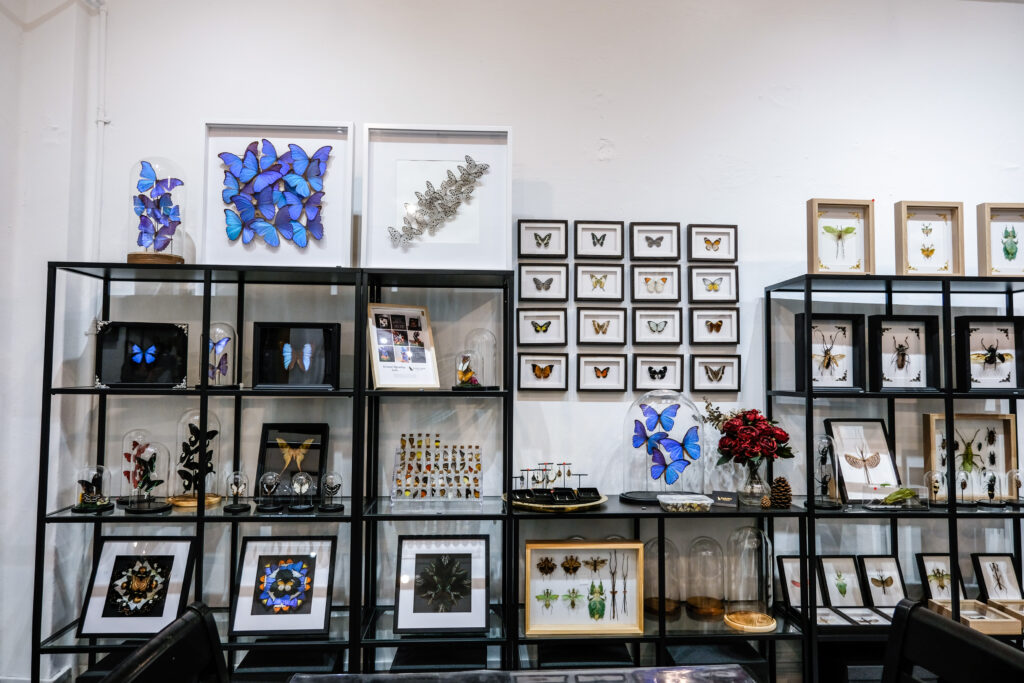 Inside the daily life of a taxidermist
Everything is ethically sourced, ranging from donations from pet shops, farms, to owners leaving their beloved dead pets. (Note: Black Crow's team stresses that they do not kill for their specimens or deal with endangered species.)

Even more fascinatingly, Vivian has met many wildlife enthusiasts who have kept animals like cats or big rhino beetles or bats in their fridge – sometimes for as long as a year.
"Some people have pets or little animals in their freezer because they don't know what to do with it. So we help them frame it up or put it in a dome," she explains.

Next, Vivian has to decide how to preserve the animal, such as whether to skin the carcass, keep it as a skeleton, mount the piece or preserve it chemically.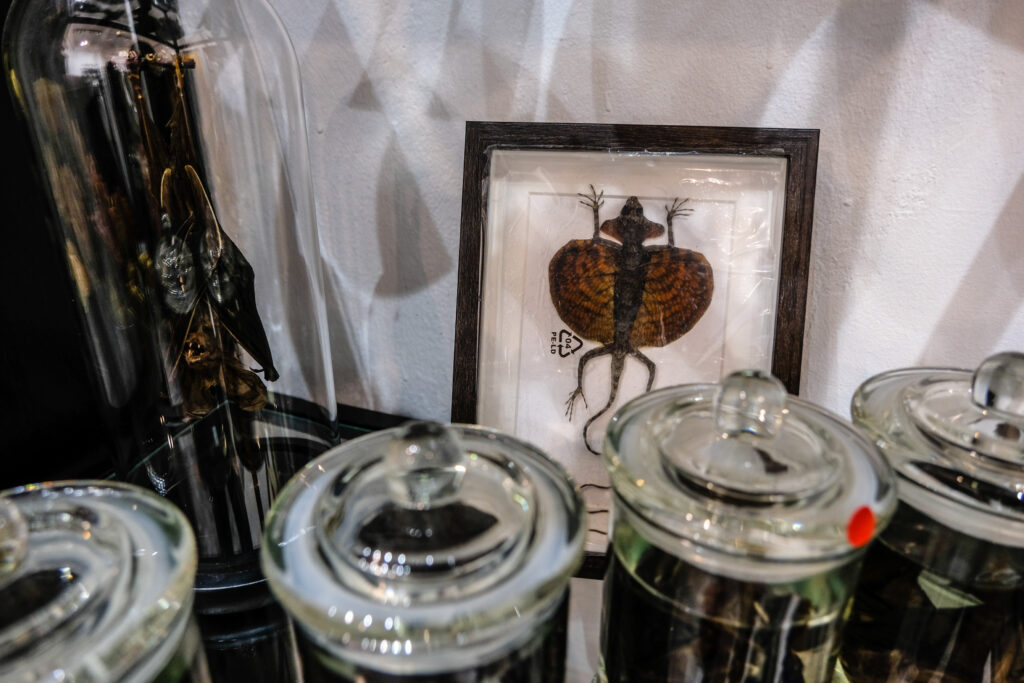 Most of the grunt work happens in Vivian's kitchen at home, especially when it comes to cleaning out skulls. The act of stripping flesh from bone can seem gory – think pulling out eyeballs and tongue or cleaning out the insides – but she is able to do so efficiently and with great precision without flinching.
"You can't be blindly digging out stuff without knowing the anatomy. Each creature is different so you need a lot of knowledge on what the structure is like before you start to skin it."

Back in Malaysia, Vivian used to go on night drives in search of roadkill. She recalled one memorable incident when she parked her car by the side of the highway after spotting a dead stray dog at 2am. When some good Samaritans stopped to check if she needed help with her car, they must have been terrified out of their wits as she was "dressed in black with gloves and a mask, even a shovel' as she collected the dog's body, Vivian recalled with a laugh.

Sometimes, days-old carcasses come filled with maggots. "I love maggots! Maggots are friends because they help to recycle everything from the environment," she quips.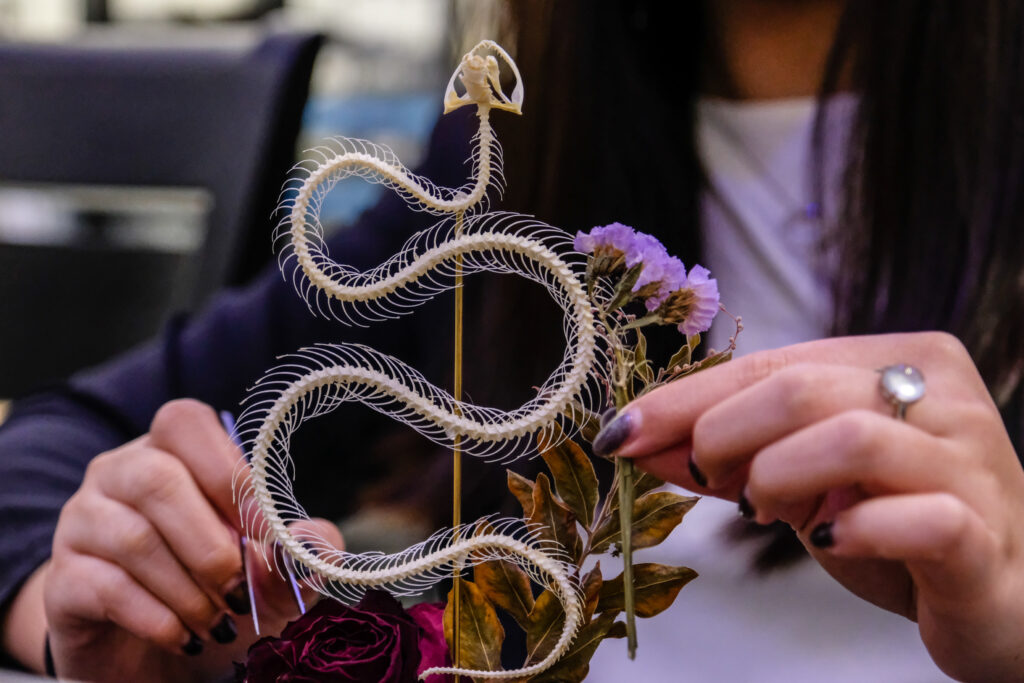 Finally, Vivian gets to wield her creative juices by curating and dreaming up her own creations. In one project, she created her own gothic 'fairy range' out of different insect parts .In another, she undertook the laborious task of piecing together over 20 butterflies into mandalas according to different colour schemes, to symbolise themes like happiness and envy.

Today, people no longer drop off specimens at her house but at the store. Many of them collect local butterflies – such as the plain tiger butterfly, lime butterfly, great orange tip butterfly and leopard lacewing, for instance.

On the qualities of being a good taxidermist, she says, "You must be someone that is able to create something that lasts forever, but to be able to know how to piece everything so that it's true to its form."


Dreaming big
Both Vivian and Jivan had initially planned to open a studio in mid-2022 and then expand to doing workshops later that year.

"We're now a year ahead of that, and it's crazy. We foresee this growing super quick," said Jivan.

While taxidermy has always been associated with wealth and luxury even back during the Victorian era, it's seeing a more ubiquitous demand among Singaporeans, says Vivian. Groups of friends and couples are signing up for their workshops to learn how to create their own butterfly dome and frame as an immersive bonding experience.

She has also observed more parents participating in workshops with their children. "Living in an urban jungle like Singapore, it's nice to know that parents want their kids to be brought up close to nature," she said.

Inspired by the likes of natural history museums across the world, their end goal is to create a taxidermy museum and educational hub in Singapore, where the animals are not kept behind glass.

"Can you imagine kids touching a zebra or lion…That's true sensory learning and education. So when you start the kids young, they don't grow up afraid of wildlife and have a real appreciation for nature conservation," she says.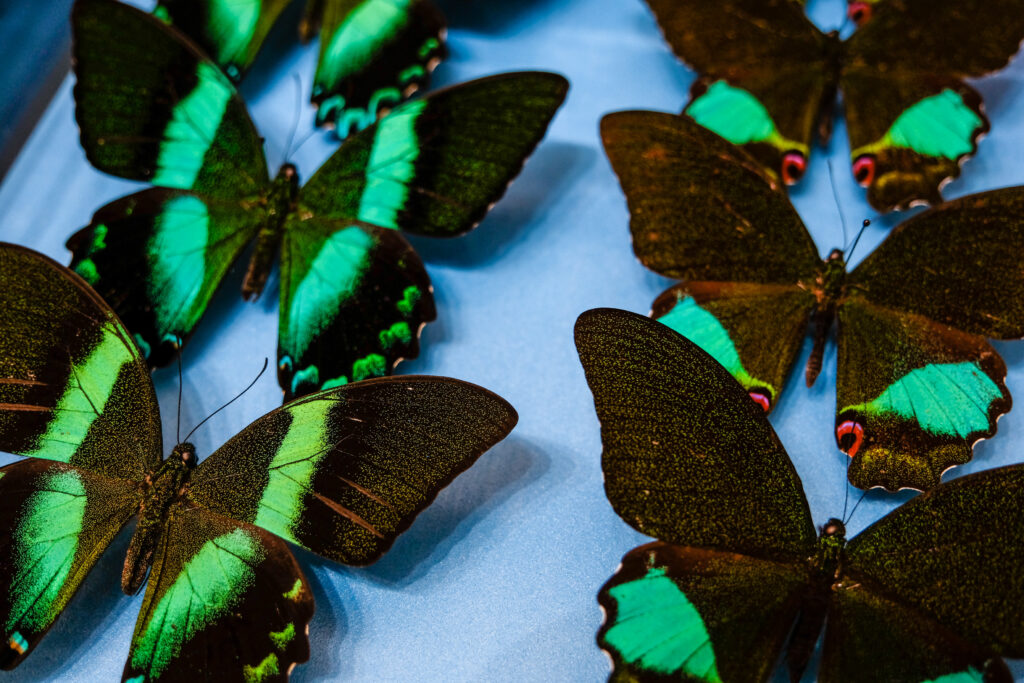 With her days packed to back to back with meetings and workshops, Vivian is hoping for some respite in the madness. She finds it therapeutic to be able to sit down and work on her creations uninterrupted.
I ask her what animal she dreams of working on next. It changes with her passing fancies, Jivan jokes fondly. The last was a giraffe – and the latest being a flamingo.

Working with all these dead animals, does it make her contemplate her own mortality as well? She shrugs with a laugh, "Not really, I just think about making things pretty. Since young, I've always been quite scientific, so death to me is when your brain stops working. After all, death is just a part of life isn't it?"

Catch Vivian in the Chinatown episode of the Under My Block series and discover other hidden gems in the area
🎥 Check out the full Under My Block series and discover unique experiences in the heartlands around Singapore: https://bit.ly/3DpMvQR
📍 Wondering what else to do in Singapore? Here's a handy map of all the locations featured in the articles and videos under this series: https://bit.ly/3srQf2m